If you're stuck in life trying to move on the internet might throw back at you various quotes in the vain of: if you're trying to move forward then don't look back. This blog isn't about philosophy but sometimes it's damn well close.
Recently I caught myself reminiscing the earlier days of my career when I'd joined the family firm and ended up taking charge of the IT infrastructure. When I started this was one Fujitsu box running Small Business Server 2003 along with a rabble of Windows XP desktops dotted about. There were a few Vista laptops appearing as well at the time.
When I first joined the company I became aware of an issue that would strike at some point over the weekend. On almost all Monday mornings the internet would be down. Not every Monday but quite a lot.
The simple fix was to exclude the Internet Security and Acceleration Server (ISA and now called Forefront Server) proxy cache file from the weekly full backup that Backup Exec was doing. That was the first major IT issue solved in my career.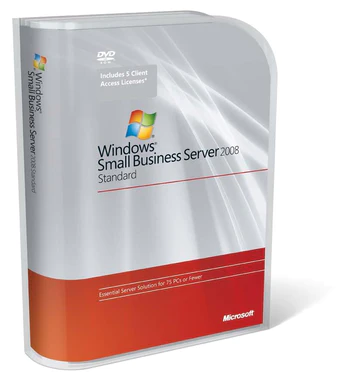 Shortly after fixing that the company decided it had outgrown the Small Business Server 2003 setup and we decided to replace it with Small Business Server 2008 on advice of our IT partner. Windows 7 had also appeared which was of keen interest to the company and long suffering employees with that all too blue XP interface.
But if you don't know much about the legendary Microsoft product that was Small Business Server I'll explain dear reader.
The big idea with Small Business Server was to bundle together many core products vital to a growing business into one licence, at a reasonable price and all carefully designed to work together more or less out the box. It would then be up to an IT provider to design, implement and support the server. In addition if you needed it you could buy the shiny Premium add-on which granted a second Windows Server plus a licence for my favourite video game SQL Server (at the time the rather advanced SQL Server 2008).
For Small Business 2008 it would provide: Active Directory, Microsoft Exchange, File & Print, SharePoint, Windows Server Update Services plus a backup solution built in. To manage all this the server offered a console which also reported on the status of the server as well as the clients connected to it. Somehow it was a product that was sold like an appliance, worked like an appliance but wasn't actually an appliance.
(There's probably something important I missed out in that list).
Did I mention this thing also provide Remote Desktop Web Gateway and PPTP based VPN? Yes indeed! This was a more innocent time in the age of the internet where broadband lines weren't quite as ubiquitous as they are now. You did have to run it behind a router as having a second network interface was prohibited.
But in my tenure as an SBS admin this simply wasn't enough. Nope. We decided to add on Symantec's Backup Exec and Sophos Endpoint AND Sophos PureMessage. Somehow it all continued to work together.
This product back in the day was on one hand valuable for small/medium businesses to access server technologies but on the other questionable as to whether it was such a great idea to actually run it. By the standards of today it's an absolutely crackers product for a small to medium business to run because the sheer number of moving parts on the installation were asking for trouble.
I would be very surprised if there weren't stories of horror out there of SBS completely falling over, backups not working and entire businesses grinding to a halt. This product was arguably dangerous to run a small to medium business upon.
The world moved on from Small Business Server and the last version would be Small Business Server 2011 based on Windows Server 2008 R2. For the Windows Server 2012 era Microsoft would replace it with Windows Server Essentials and also nudge you towards Office 365.
By the standards of today it's an absolutely crackers product for a small to medium business to run…
I owe a great deal to Small Business Server. What I learned running the product was the basis for the first 16 years of my career. After 9 years I moved onto a consultant role and took the skills with managing Windows Server, Active Directory and most importantly SQL Server. Arguably the last remaining "on-premise" skills now that the world is more cloud centric.
The most valuable lessons I learned from supporting Small Business Server?
First was to never run a server on RAID5 because whilst the storage is efficient (only 33% is used for parity) the performance was absolutely dire. Taking 10-20 minutes plus to reboot whilst emails were probably getting lost was unacceptable then and would be grounds for dismissal now.
Second was that given the rise of email, instant messaging and to a lesser extent services like SharePoint it's absolutely vital to keep these afloat and therefore a single box running everything is too great a point of failure in the business. It's time to consider hosted or cloud for such things unless you have the resources to reliably host and build adequate redundancy on site.
Third well now the product has gone it's always worth remembering that there was a time where we needed to run everything ourselves. In a cloud first era someone still has to do the work in the datacentre to run all of this. Tip a thought to those individual every so often an appreciate the work that gets put in.
(And no I don't want Small Business Server back)